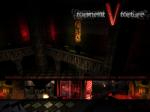 It has been a while since the last major announcement here on the Realm667 but today I am back with a real blast: This is the official announcement of
Torment & Torture 5
. In the past months, a huge amount of work has already been done like gathering resources, defining models, gldefs, objects, optimizing textures and even mapping (that's the reason why I haven't been active in terms of TSoZD or HPack btw, just if people are wondering as these projects will most propably get even less interest and activity in the upcoming months from my side). You can already get an idea of the look that I am aiming for TNT5 in the teaser image. Beyond this, you can expect the following features:
3D Models for all ingame objects
7 all new weapons
Countless new monsters
HiRes textures
32-bit color special effects
5 new maps
Different new gameplay approachs
12 hours of gameplay (incl. sidequests)
An rpg-type experience system
...and many many more things never seen before in a Doom mod!
Expect some more screenshot content in the upcoming weeks, including screenshots, ingame videos and other nifty stuff that feeds the hyping machine
Cheers, Dan
*UPDATE* Yes, it was an April's Fool