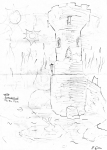 Today I was cleaning up some old boxes that have been left in a dark corner since I have moved to another flat a few years ago. While looking through countless old and used papers I found something that actually reminded me how long it has already been since I was working on
The Ultimate Torment & Torture
. It was one page with two sketches that I drew in my break while beeing at work on 2004, actually 7 years ago. That's hell a lot of time, damnit. I've uploaded both scans for you and well, let's consider this as some kind of trivia, I am just curious who's the first who can thell me from which episode, which map and which setting these two sketches are.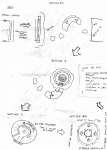 On another side note, I've renamed the "Site News" now to "
Torm's Dev Blog
", not sure yet, if I keep this as it is now but it doesn't make sense to me anymore to have a news section for site related news when these things can also go into the community news area. Next to that, posting news on my own projects doesn't make sense to be in a "Site News" section either, so this change seems to be a logic solution. Let me know if you have some better ideas though.
Just to keep you informed by the way, I am currently still working on
HPack
(which is coming along nicely) and beyond I have something prepared in secret that will be a collaboration with my friend
Ghastly
, more information about this will be revealed soon - promised!