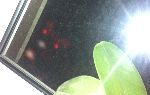 There it was again, the past 3 nights. I once more heard the strange noises next to my room, near the window and around every corner, hard to figur out where it actually comes from. But this time I considered myself to be prepared - with my iPhone. Not to call the Ghostbusters but at least to get a quick pic of what I thought must have been around somewhere close. When I heard the scratches, I slowly moved to the window where I had the feeling it came from and "
click
" - I got it!
At least a small proof that I am not going mad as some of you have already thought! Though, it doesn't make things better, it scares even more now. As you can see, there isn't much to see at all. The iPhone camera fails, the dirt from the streets on my window as well, and considering that the "creature" wasn't actually posing for me doesn't improve the photo quality at all. Funny though, with a little imagination it looks almost like an imp face. Oh well... maybe madness is really an option and I shouldn't have played Doom that long and often in my youth.
Nevermind, let me know what you think about it, looking forward to your thoughts.