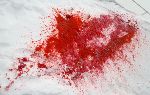 Meh... this morning was certainly disgusting. In the past few days the strange sounds near my room at night have almost been disappeared - though that doesn't mean they have been vanished at all. This night was pretty scary. I woke up when I heard a loud moaning near the streets. I opened my window and saw dark human-like beings surrounding something in the snow, strange voices and creepy sounds followed by other stuff that I haven't heard before... I was almost paralyzed, I didn't even think about taking my camera and doing some shots so unfortunately I can't even prove what I've seen - but I swear it has definitely happened.
After a while, I closed my window, pulled my bed sheet above my head and when the shiver stopped I must have fallen asleep. When I was getting up again, I almost thought I just had a bad dream, but looking outside my windows has proven me senses. It was looking terrible, and my first thought was that someone tricked me and this surely was only some marmelade - well ... it wasn't. Calling the police wasn't an option though, as when they arrived, the whole snow melt away and the blood went directly into the drain of our street. They most propably thought I am mad, at least that's what their look told me.
This obviously is getting worse or I am just getting crazy... but stay tuned, I will keep you updated with the paranormal stuff happening lately.