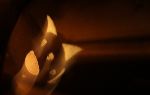 I am getting better at this paparazzi thing obviously. I already had a certain feeling this night after the latest occurances, so I took my DSLR directly next to me when getting to sleep. Just as always, around 3 AM, the strange noises started again, but this time they seemed different... the pitch was much higher, not that scary, more like a crying cat and less like an evil monster directly from hell taking revenge on his one billion friends I've shot in the past decade.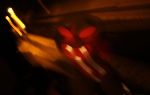 I took my Canon, moved slowly to the window without being noticed and in one quick move, opened the window and did as many shots as possible in the short time before the creature ran away. From about 20 shots, I took two of them on which you can actually recognize the most details that I could catch in this moment. One thing is obvious now... it's an Imp, definitely. No idea how old, but it's a smaller one and I am not sure what it is looking for or what it is doing here - but it's there and you've got your proof.
Now it's time to get an idea what to do with it, what it wants and well ... there are enough questions now that need answers.