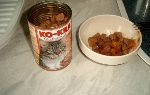 In the past 2 more nights, the creature was "haunting" my window once more and I also got the chance to take a closer look at it. It's furry, it has red big eyes and it's very small, about 16 inches large and obviously a very young entity from his ... or its race. It seems to be very curious and I still do not know if it has a certain plan or if it is looking for something special, but it just sits near my window, looking into my room. Unfortunately I must have scared it the last time when I used my Canon with the internal flash to make a good photo of it so every time I put that in my hands it just leaves and it takes another day for it to come back.
That's another thing that I do not get yet. It's obviously not a friend of daylight as it's only here as soon as the sun is gone and most of the car- and streetlights from my neighbourhood are off. I'm quite sure about this factt as I have tried to attract it with cat food the whole two days but it only ate that stuff when it was dark - and when I obviously didn't see it.
It's not my intention to catch the creature by force, moreover I will try to get its attention and maybe even its confidence, and maybe I will get more camera shots than. Stay tuned, this is getting very interesting lately.