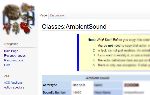 Also being tired of browsing through hundreds of wads, pk3s and other games just to find the one single ambient sound you are looking for? Finally, this is over! The
Realm667
proudly presents the
Sound Fact
ory
,
the latest repository
area on this page where you will be able to find countless high quality ambient sounds with preview and ready to use with SNDINFO definitions. It was never easier to fill your maps with acustic candy.
As of now, it's still a bit empty there, but as always, this place is a community thing. Collect your stuff, read the rules and submit your material, we will host it and make it available for other mappers out there. It's a give and take, just as usual. Looking forward to your support and submissions, the forum has just opened and is waiting for your files!