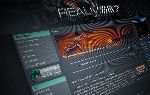 Yes, some of you might have already asked youself:
"Is this the end of my favorite resource page?"
Fortunately, it wasn't! We are back in business again, better, faster, stronger and more overloaded than ever before. For those who might have missed it: The site was hacked one month ago and we haven't been able to track the issues down online. The only chance to get rid of this and fix the security holes has been to take the page down and work on it with some more time and thought. While being at it, I finally had also the chance to improve several aspects of the site, to make it more intuitive and faster to navigate, also to get rid of several things that weren't needed anymore and adding some features that might be of good use for all of you. So without further blabla, time to start again! Take your time, browse through the new page - and in case you find some problems, just let us know in our forums (which are nit completely finished yet, as the visual integration still suffers a bit, but we are working on it as well). Thanks!