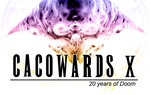 Wohoo! For all those who already thought the
Annual Cacowards
would delay another year (just as 2012), I must disappoint you - it has just been published over at Doomworld. First of all, congratulations to all winners, you have done brilliant work and it is always a pleasure that the community is still alive and flowing (even though I have the feeling that we've had already
stronger and more active
days).
Next to this, another great news is that the
ZDoom Community Project Take 2
won two of the awards, one in the category
project with the longest development time
known as the Mordeth award, and one (which is highly appreciated) for being under the top ten releases in 2012, the
Cacoward
. Thanks for this honor, and thanks to all of you (still) being part of the project, you are doing and have done an amazing job with this project which makes it totally deserve the award. Looking forward to the final release!