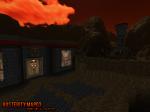 This news is for those who almost thought that
Austerity 2.0
is one of my projects that are under construction forever and now sign of life in sight at all. I am actually working on
MAP03
again after I got in a certain editing mood lately ;) Well, it's by fare not finished but I have changed a few things in the last few days now that I wanted to mention here. First at all the third map isn't based anymore on a island in the see (thx to
Torment & Torture 3,
I thought this idea is already overused), instead I put it into the void... or some dark place on a planet, floating, something like that... but it is scary
:) Beyond I have added 3 new rooms to the map that takes advantage of the new skybox and beyond I have also chosen a title for that. It'll be called
Red Moon
. For some preview, click on the pic at the right and for more you have to visit Realm667 as frequent as possible, news are already in sight!