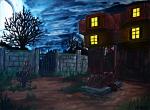 After some long time I feel somehow forced to do a little news item about the past months, so, here it is. ;) You might ask yourself: "
What the fuck is this at the right?
" but I will tell you more about this beautiful moody drawing later, just read on. ;)
First of all, I am still working on Stronghold and I finally gathered a larger team of skilled mappers around me that help filling the 5 tiers with quality and epic battles against hordes of demons. Many things have been changed and added since I released the last alpha relese (was around build 30 or so), but I promise, this is getting better and better, just be patient! If you want to see some more screenshots or other information, visit the thread at ZDoom.org for most recent information.
Next to that, I also enhanced my homepage a bit and made many things looking a bit better, especially popups. They are now drawn in a beautiful decent lightbox that looks so much better and works out so much smoother. Some areas have also been enhanced for a little advantage in terms of visuality and usability. Just take your time, browse through the pages,
find the latest Beastiary updates *secret hint*
and give me a little guestbook entry, makes me always happy :D
Fine, last but not least, what's the drawing all about? If you have ever played
The City of The Damned : Apocalypse
, you might recognize this place. The Artist Lucius Octavion has done a great job on this as it perfectly catches the atmosphere of my Horror-Survival-Doom experience. Great, really, I am curious if someone is doing something like that for
The City of The Damned III
as well... ops... :|