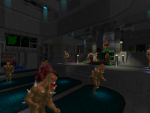 After several months of development the first three-map demo of "
Winter's Fury
" by Pyroscourge (formerly known as Starscream) has been released. Expect some fast paced action, scripted sequences and boss fights in a beautiful cold and icy environment carried out with the power of
GZDoom
as base engine. Throughout the mod there are also cut scenes which progress the story further as you adventure through the levels.
You can find the download link as well as some further information and plotin the
development thread
over at ZDoom.org, it's definitely worth trying out.