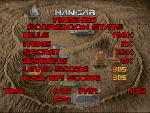 The latest version of
ScoreDoom
(v3.0r2) and
ScoredoomST
(v0.97c2-R5b) have been released a few days ago, mostly being a fix for running
uac_dead.wad
without any problems. For those of you who have never heard of ScoreDoom, it's actually a sourceport based on ZDoom (and Skulltag) but gives a little twist to the gameplay, especially for multiplayer games.
"Try to find as many secrets and map items as possible, kill as many monsters as possible, complete as many map objectives as possible, and explode as many barrels as possible, as quickly as possible. The player with the highest points or hi-score wins the game. Other than that, it is Doom."
It supports new gamemodes, custom wads, a addon pack with new monsters and even an online highscore table. More information and the latest version can be found at its
official project page
.