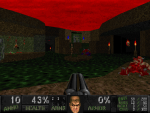 Well it's one of those times of the month when a new edition of the Newstuff Chronicles gets released. The
392nd edition
 features reviews on maps both new-ish and pretty old. What caught my eye was the "
Plutonia: Revisited Community Project
" which, if you know your community projects, presents a wide variety of maps which go from downright fantastic to "Eh, it's alright." If you like community megawads and plutonia style maps, that's a project worth trying out. Another interesting wad that got reviewed was an appraised wad by the name of "
Vanguard
." 
Interestingly enough, 2 Tormentor667 branded projects also got reviewed, both "
The City of the Damned: Apocalypse
" and "
Austerity: A Simplicity Tribute
." One was just a mention of the recent widescreen fix for Apocalypse and the other an actual review. Not sure what the point of mentioning the widescreen fix on Apocalypse as a review was, but it's there. It's a little surprising that Austerity got reviewed since it's decently well known and has been floating around for quite some time.