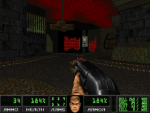 Another edition of
/newstuff
brings us...not much to look at. A few not-so-appeasing maps and mods got released but within the bunch of below average to average pwads there's a few rather interesting finds.
"
Pandora's Box
" is a good old-school wad that's worth checking out, while "
Sacrament
" is a good looking mapset, that despite some gameplay issues might still be worth taking a look at. A new version of the all too well known "
Beautiful Doom
" got a mention as well, so there's that.
Overall nothing outstanding, but there's still always something worth taking some time out of your day to try out.