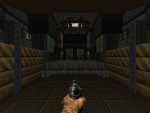 You know, it can happen to everyone at any time, the evil thing called
Mapper's Block
. If you are a mapper, you most likely ran into one or even more of these bastards already for several times, depending how actively you are involved into this type of Doom modding. People have already asked me several times what can be done about this, and for me one of the best solutions is to study other people's work as a base for new ideas and inspiration. Two sources that are less known but very active are the two "
Work in Progress
" / "
What are you working on
" threads over at Doomworld.com and ZDoom.org where mappers are presenting screenshots of maps currently under development. It's definitly worth browsing through and getting some new and fresh ideas if you are running into a mapper's block. Check it out!