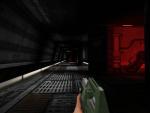 Sometimes it just happens that out of nowhere a new release is made and it's more than a welcome surprise.
Aliens - Colonial Marine
is exactly that. Created by
Deimos Anomly
, you do not have high expectations because neither a lot of advertisement and progress report has been done before nor does the mapper already have released known stuff. Though, you won't be disappointed. The mod shares the same setting of the second Alien movie by Ridley Scott, using numerous resources from the official first Alien shooter, Justin Fisher's Aliens TC but also lots of new custom stuff that hasn't been seen before. The maps are very intense and atmospheric and the whole thing has been executed very very well. But
try it on your own
, it's worth every single byte!