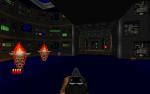 If you are into classic homages, this was definitely a week for you. In case you missed it:
ReX
has released two of his projects which have already been in production for several months now and are - at least in my opinion - a must-have and -play for every kind of Doomer, especially those who already loved mods like
Knee-Deep in ZDoom
or
The Ultimate Needs More Detail
. The first project is
Deimos : Slight Return
, a collection of nine maps that attempt to capture the look and feel of the original Episode 2 and do pretty well at that. The other one is actually more a collaboration project from the
Persecution Complex
called
The Phobos Directive
, a mod filled with numerous new content (different monster behaviour, lots of eyecandy) and maps that are a mixture of new areas and little parts that resemble the original areas of E1. It catches the good old Phobos theme quite well but adds a new twist in terms of gameplay. Get them both, and thanks to the authors for these brilliant releases!