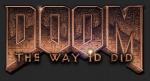 Finally it's out, after
18 years
... erm... some time,
Doom - The Way id Did
is out. For those who haven't heard of it, Doom The Way id Did (or DTWiD for short) is a 3-episode tribute to our beloved DOOM.WAD, designed not as a homage-spree but as an answer to the question "What would it look like if id had decided to create a 10th map for each episode?" The end result is a full set of maps that's meant to look, feel, and play like they came from the hands of Romero, Petersen, and Hall, and in my eyes they will send a chill of nostalgia down everyone's spine. Check the
official page
for the release, further information and the file itself!