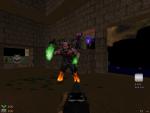 After several months of inactivity, Faerlyn and Ghastly dusted off Hard-Doom and re-released it as Hard-Doom Resurrection! Changes include further balance tweaks, weapon special effects added back in, two new randomly-placed bosses, and a new rank/experience system!
Get it at the project thread!
Hard-Doom is a mod dedicated to making the game harder, using a few monsters from Realm667 (and several submitted TO R667 from Hard-Doom), tweaked for better balance and more fun gameplay.