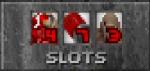 Ever heard of 
Kinsie
? If not, you definitely should have as he is one of the artists who is responsible for crazy and different mod ideas from the past few years, e.g. "
Night of the homeless
" or "
Truckosaur
" to mention two of them. The former one has finally got its sequel - but expect more than just a flat-out sequel
"
Each game is divided into five sixty-second rounds. In between each round, this slot machine in your HUD activates, changing the rules set for the next round. One minute you're rolling around in an absurdly large tank crushing Hell Knights beneath your treads without a care in the world, the next you're desperately fleeing at half speed while firing Wolfenstein weapons futilely at an invulnerable hellbeast, then the next you're flying around lobbing petrol bombs at Imps. The choice isn't yours, it's all up to chance and a cruel, unforgiving RNG. And if you survive all five rounds...?
"
A gameplay video as well as further information, screenshots and a download link can be found over at ZDoom.org in the
development thread
.
Reelism
is something that you will like or hate... well, I like it!