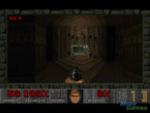 What more testament does Doom need to show that it has withstood the test of time? We all know it's a great game, fun and enjoyable, and easy to modify, with a dedicated community that is 18 years strong. Not to mention all the "Top 100 Games of All Time" lists that are sure to have Doom noted on there, but why not make it official?
Well the Smithsonian American Art Museum has done just that for a upcoming 
Video Game Exhibition
 that will be held. Possibly through popular vote or formula, Doom 2 won out among the many other action genre video games on the DOS/Windows platform for the "Era 4" section of the exhibition. You can check out all the winning games in their eras and categories
here
if you're curious, or skip straight to the
page in question
and see for yourself.