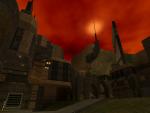 I was just looking through the latest shots in Doomworld's "
Post your Doom picture
"-thread and spotted something that was definitely worth sharing to you. The screenshot is from
Ed
's latest work in progress for GZDoom and is totally mindblowing.
Ed says: "
Skybox is one of my favorite parts. The mountain range is md2 geometry / skin. I had my doubts about how that would come out, but I think it works well. The sun is a stack of additive / normal lights. It also has a scrolling 3d under layer of clouds that when under the outer sunrays (normal light source) the under layer lights up, but drowns out the additive sphere. It's a really cool effect! The really tall building is actually a 1024x384 mid-texture. It's pegged to the floor about 512 units and pierces the sky at 640. 240kb is a cheap price for a nice background piece.
"
More screens can be found in the apropriate thread. Let's simply hope that this doesn't take forever, people might be already very keen on the wad now.