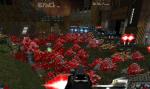 Well, it's already been more than one month but this mod deserves that kind of attention. Over at
Skulltag.com
,
Wad'a'holic
has released his final v1.3 of his project
Shotgun Frenzy
. What is it all about? If you like Skulltag's Invasion mode and if you like Realm667's very own
Stronghold
, you will absolutely love Shotgun Frenzy. It features several new gamemodes but all of these have a special twist. There is even a SinglePlayer campaign. For a download link, screenshots and info, check the
release thread
.