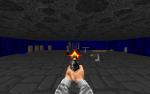 A few days ago,
CeeJay
released his
enhanced versions
of
Laz Rojas
original
WolfenDoom
ports of
The Original Missions
and
The Nocturnal Missions
from Wolfenstein 3D. The changes mostly make the whole project more playable and closer to the original.
Unfortunately CeeJay stated that this is the only improvement of original WolfenDoom work that he has planned - though I really hope with a little bit of luck he changes his mind.
Laz Rojas
did an amazing job with his creations, especially the original stuff like Rheingold or Arctiv, it would really deserve an update.