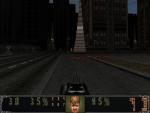 Looking through the latest article in the
/newstuff Chronicles
on Doomworld, I spotted a very interesting jewel in the releases.
Deadall
brings us a very special and a very different wad for GZDoom/GLBoom Plus that obviously seems to be steampunk inspired somehow - actually it reminded me a lot of Blood. Expect a lot of new stuff, new weapons, lots of new sprites, hires textures and most of all a creepy atmosphere. You can download the file from the
/idgames
archives and make sure to read the
/newstuff
review from Phobus for some more details on the whole piece before playing - but don't spoil yourself.