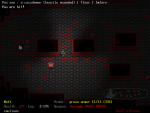 The Doom-based roguelike game,
DoomRL
, was just updated with a new version. Apart from the usual tweaks and fixes, the new version adds a graphical mode with art from the acclaimed indie game artist Derek Yu, as well as MP3 music tracks from Sonic Clang and high quality sound effects by Per Kristian Risvik. The new release can be downloaded
here
, while people hungry for preview appetizers can turn to the fresh
screenshots
or the new
showcase video
.