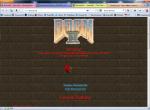 Just in case you haven't noticed it yet: After struggling with nameserver issues for over half a year,
Doom2.net
is back online. The classic Doom site is best known as the host of
Doom Depot
(Doom64 Absolution),
Compet-n
and many other brilliant and also historic Doom pages. Unfortunately Compet-n's FTP and demo file services are still defunct, but at least it's a first step. Take your time, it'll be worth every single line of information and every bit and byte of downloads.