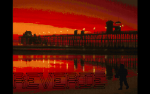 Over at
Doomworld
, the latest /newstuff edition has been published featuring brand new reviews of several interesting wads and projects released in the past couple of days, weeks, months, years and decades (
yes baby, let's go for the '94s!
). If you haven't played all of them yet, you should definitely take a look at
Reverie
, a 32 map megawad which even earned a Cacoward,
Khorus Speedy Shift
, a 32 map megaward created in 26 days (and in terms of quality, it's pretty well done) and also
Object 34: Sonar
, something you didn't expect when you play it. More can be read in the official article
here
.