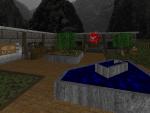 Two more days and we will start the development of the
ZDoom Community Map Project 2
- it almost feels like christmas to me. All the mapping slots are filled, only 3 more slots left for the detail- and gameplayslots, people are gathering resources, preparing the armory and discussing the final rules. So far I can tell everything is running exactly the way I hoped for. If you are interested in
joining us
, you can still consider this until the beginning of Phase 2 (what is on 26th of May btw). For those of you who only are interested in playing this as soon as it is finished, it would now be the perfect opportunity to replay the first
ZDCMP
. Otherwise, just follow the development, stay tuned, feel free to give some feedback and let's hope we will have better luck this time - even though I have a real good feeling.
For those who are actively developing the map, please make sure to read the
Readme
again
here
, as it is high essential to follow the guidelines and make sure you do not interfer with the rules. Keep in mind what we are aiming for, keep in mind how this is supposed to turn out and what are the main goals to achieve - and I am sure this one will have a great impact on the community - again.
Good luck friends,
Dan