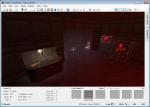 I was shocked, how could I miss that?!
MaxED
has released the first version of his DoomBuilder 2 fork called "
GZDoomBuilder
". It's actually the same as DB2 but features numerous GZDoom abilities that are directly rendered in the 3D Editing, like dynamic lights (currently, only "standard" light (with EdNum 9800) is supported) and MD3 models visible in 2D and 3D modes. Planned features are all GZDoom dynamic light types, parse and render lights defined in GLDEFS, add color picker window to set light properties quicker, add color picker window to set sector light color quicker (UMDF mode only), add list view with all Things/Sectors, which have tags and many more things. This is an ambitious project that will definitely help a lot when working on GZDoom maps in the future,
so check it out
and support the programer!