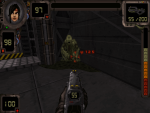 I guess most of you are aware of the "What the hell are you working on"-threads over at Doomworld and ZDoom. It's a very good place to keep yourself informed about projects in progress but also a great resource to gather some motivation or inspiration, if you have a bad mood or run into a mapper's block. Today I spotted something that could have been originally made by Enjay. Why? Because he is teasing us with Aspects shots now for decades and it's a shame that he still hasn't released anything. Exactly like Enjay's shots, Globe has just appeared out of nowhere (at least for me) and teased us with something that looks like a complete and perfectly executed total conversion - with a nice Strife-touch, the screenshot speaks for itself. More can be found
here
btw... I am damn curious when we will have a development thread for the project.
*UPDATE*
I failed it! It's a TC for EDuke32 and not for ZDoom (thanks for pointing this out, Gez), but anyway - it looks awesome!
*UPDATE 2: Electric Dukaloo*
It now has a
project thread
on a DN3D forum, if you are curious.