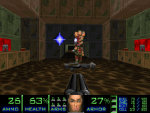 "There is a dimension, a dimension full of nonsense and surrealism. It is a place where crates are out to kill you, and a place where logic jumps off a bridge. A journey into a wondrous land of ludicrosity, your next stop: Beyond Reality!"


The author puts it in a nutshell. If you are interested in something totally crazy and different, it's time for you to get your hands on
Beyond Reality
, a Doom mod that goes beyond anything that has been seen so far. This is not a simple joke wad, it's more an unreal creation of a twisted dimension but in a very high quality and very well executed. You can find a download link and further info in the
dev thread
over at ZDoom.org.