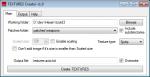 Tired of creating
TEXTURES
lumps from your custom graphics folder by doing all of these manually? Well, don't worry,
MaxEd
, who is already known for his brilliant work on
GZDoomBuilder
, was bored again. Fortunately when he has some time left, useful things pop out of nowhere. In this case, it's the
TEXTURES Creator 1.1
which can be found
here
. What is it capable of?
supports same image types as ZDoom (.jpg, .jpeg, .png, .dds, .pcx, .tga, .gif).
ability to auto-scale textures (usefull when you have thousands of hires textures).
ability to set sprites Offset (when Texture type is set to "Sprite").
can work from command line (see "Help" tab for avaliable command-line parameters).
fast processing speed (takes less than a second to process 2000 images).
More info and support can be found in the development thread at ZDoom.org. Try it and help MaxEd to improve it!