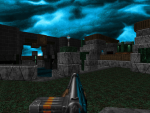 Out of nowhere,
Mechadon
posted a beautiful gem on the ZDoom forums which is currently under development:
Supplice
. Supplice is a Boom-compatible megawad for Doom II with the base port compatibility being MBF. The goal of the project is to create a set of singleplayer (possibly COOP) maps using all-new textures, graphics, sprites, sounds, and music. In addition there are a number of new monsters and some weapon alterations via dehacked. More information (actually a huge essay) can be found at the
development thread
on ZDoom as well as further screenshots. I'd suggest keeping an eye on this, it looks very original and could be another masterpiece of work for our favorite FPS-game.