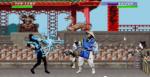 We have already seen all kinds of mini games remade in Doom:
Bomberman, Snake, Paddle War
but never something that's as complex as a whole fighting game -
Mortal Kombat
to speak of.
Doomero-21
has done exactly that. He ported Mortal Kombat, enhanced it and even added a multiplayer mode that in total looks like a perfect recreation of the original game. Sure, there are a few little differences and flaws, but considering that it has been done only with the help of ZDoom and ACS, it's the most impressive work that I've seen so far. You can find videos of the gameplay and further information
here
- give it a
fist
shot.