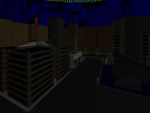 Just spotted a very interesting and new approach of Dooming over at ZDoom.org called
Cyberrunner. 
According to
TerminusEst13
's post, it started off as a combination of his Superfast (which you likely haven't heard of) and ijon tichy's Parkmore (which you likely have)--what started off as a joke to see what broke turned out to be surprisingly fun, and thus this mod was born.
Cyberrunner is a post-cyberpunk battle racer with only a few simple goals: Go fast, blow up whatever's in your way, go faster. If you want to see videos, screenshots and more info, just take a look at the
thread over at ZDoom
.