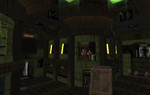 Pretty cool thing: The
ZDoom Community Map Project 2
isn't done yet but has already been mentioned as "
probably the best example to date of what Doom is like today, here and now
" which is actually a great honor for us considering the quality releases in the past years. The whole article with all the other noteworthy releases can be found
here
, just give it a shot. Also another project spearheaded by the Realm667 has been reviewed known as
The Ultimate Torment & Torture
, but that's just for the record.
Concerning the current status of ZDCMP2: We are at the final changes, polishing things and cleaning up gameplay... it's close!