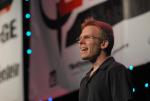 Woohooo... Doomsday for the 20th time and we've got a lot to celebrate. 20 years of modding, 20 years of deathmatch and 20 years of a brilliant and creative community. Crazy thing considering how old this game already is and that there are many people who weren't even born on its initial release decades ago. Time for a deeper insight I guess! Over at
wired.com
, a
Q&A
has been posted - some kind of interview with John Carmack, one of Doom's developers which gives a very personal and detailed view of times when the project has been developed. Another very cool thing is a "
We play Doom"
video with no one less than John Romero over
at IGN
. This is pretty interesting as you can watch a coop video with him and the moderator playing Knee-Deep in the Dead, a must watch. More things to come I guess, so stay tuned in the upcoming next days!