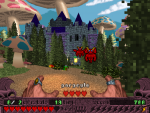 When seeing this, my first thought was that this must be an April's Fool.
Un
fortunately we have May.
Ravage
, who is already well-known for his medieval Heretic project he is working on, teased us with a new work-in-progress project based on the famous
Hocus Pocus
DOS classic from Apogee. This crazy idea turned into reality and next to several screenshots, you can also find a first test release to play around with. Check the
official thread
for more info.