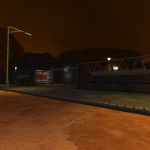 Out of nowhere just as it is usual Enjay has released a new project for Doom a few days ago. No, it isn't Aspects but at least it something else high quality we haven't been expecting - it's not that we are disappointed...
So what's it all about? Storywise, you are tasked with investigating the Gene-Tech corporation. This company, based on Mars (why is it always mars), specialises in genetic manipulation and cybernetic integration. The Global Defence Force has strong evidence to suggest that Gene-Tech has made contact with an alien race and is working with them on new technology. This goes against the internationally and interplanetarily agreed protocols for alien contact and is considered to pose a significant security risk. As such, you are authorised to use any means necessary to investigate Gene-Tech, discover the nature of their work and neutralise any alien threat should it become apparent that there is one.
Gene-Tech is a very large one-map project filled with new content and pulling the most out of GZDoom (that's why you need the latest svn version online). For screenshots and further information, just check the official development and release thread over at the ZDoom forums.