Page 22 of 22
Okay, this is now the end of our first lesson concerning the "Art of 2½D Detailing" and I really hope you enjoyed this and you learned something by reading this. All these simple things above are meant to give you some help if you stand in front of your just created room, your new walls, your empty floors or other things and you start to think: "Damnit, how can I put some more detail on this place?" For sure, this help doesn't prevent you - the mapper - from working a lot on your map, from putting much effort into your piece of work to make it look incredible. It just gives you some ideas and the knowledge how to do it.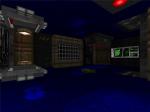 In the
last shot
of this text you will see one final room in which many of the elements and methods described above are used in: The light-source/gate at the very left, the
MIDSPACE
window in front of you, the terminal to the right, the computer panels left and right to the window (all with their very own borders), the varying light levels, the different floor textures, the light sources build in the computer panels at the ceiling, the borders on the stairs at the right, the detailed corners at the right and very, very left and for sure, the thing placement (marine & particles). All these simple details make up this high-quality UAC-Base room!
So thx for reading and feel free to give me some comments on this in my very own guestbook, so I might improve this in the near future.
-Tormentor667